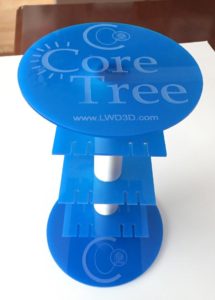 Houston Naegle's Core Tree.
One of ReliaBuild 3D's favorite things is to give back to the community. Heath Harper, the company's owner, met Houston Naegle, 14, at Brigham Young Universities Boy Scout Merit Badge Blast in October 2016. Houston was at the event to present a prototype for his Invention merit badge.
Houston's invention was a Core Tree which would help people organize their charging cords. Heath was so impressed with Houston and his Core Tree that he offered to use a laser cutter to manufacture one for him out of sheet acrylic, complete with his logo etched into the material.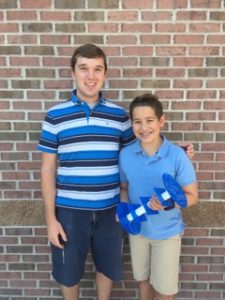 Tyler Quackenbush and Houston Naegle.
"At ReliaBuild 3D we want to encourage and inspire young minds," Heath said. "I really liked his energy in presenting it at the BYU pow wow, and how he really thought through a problem and how to solve it." Heath not only offered to manufacture an acrylic version of the Core Tree, but he also talked to Houston about production and possible marketing of his invention.
Tyler Quackenbush, a member of the ReliaBuild 3D team, used Houston's cardboard prototype as a template to cut and etch the pieces using the laser cutter. Tyler was also impressed with Houston's design. "If he hadn't have thought through the design so well, it would have been a lot harder to do, but he did a great job!" he said.
When the project was fully assembled, Tyler met with a very excited Houston to present him with his finished Core Tree.
Houston's mom, Natalie Naegle, appreciated their willingness to help Houston bring his invention to life. "Heath's company produced exactly what Houston had envisioned," she said. "Heath and his associate were so kind and eager to help Houston."
What does Houston think of the whole thing? "I was so excited when Heath talked to me and was interested in my project. Then we stayed in touch and Heath's company actually made a model for me," he said. "This has been a great experience and I hope my product gets to market."
Article by – Tiffiny Felix