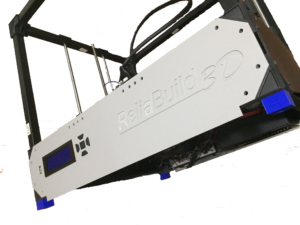 Rigidbot and Reliabuild are now interesting branches on a tree of 3D printers for desktop applications. With the demise of Rigidbot, LLC we lost a great design in the mechanical engineered rigidity created by the original Rigidbot 1 (RB1) and Rigidbot BIG (RBB) printers. The Rigidbot 2 (RB2) printer, although a glimpse in the history of the company, also drove some improvements in electronics. That combined history has spawned a new era from its legacy. Although the company is no longer around, the future of support and a new generation is around the corner.
From the ashes is born the Reliabuild 3D Printer (RB3) and its counterpart the BIG version (RBB3). The combination of Legacy Printer mechanical design and new electronics is proving to be a beautiful rebirth. New upgrades in machined parts, quieter more robust electronics with better thermal dissipation, and new additions like skip correction, have it poised to be a strong contender for desktop printing infamy.
Join the Rigidbot Google Plus community to see the buzz and start enjoying the excitement and affordability of a truly reliable desktop printing experience with the new Reliabulid 3D Printer.